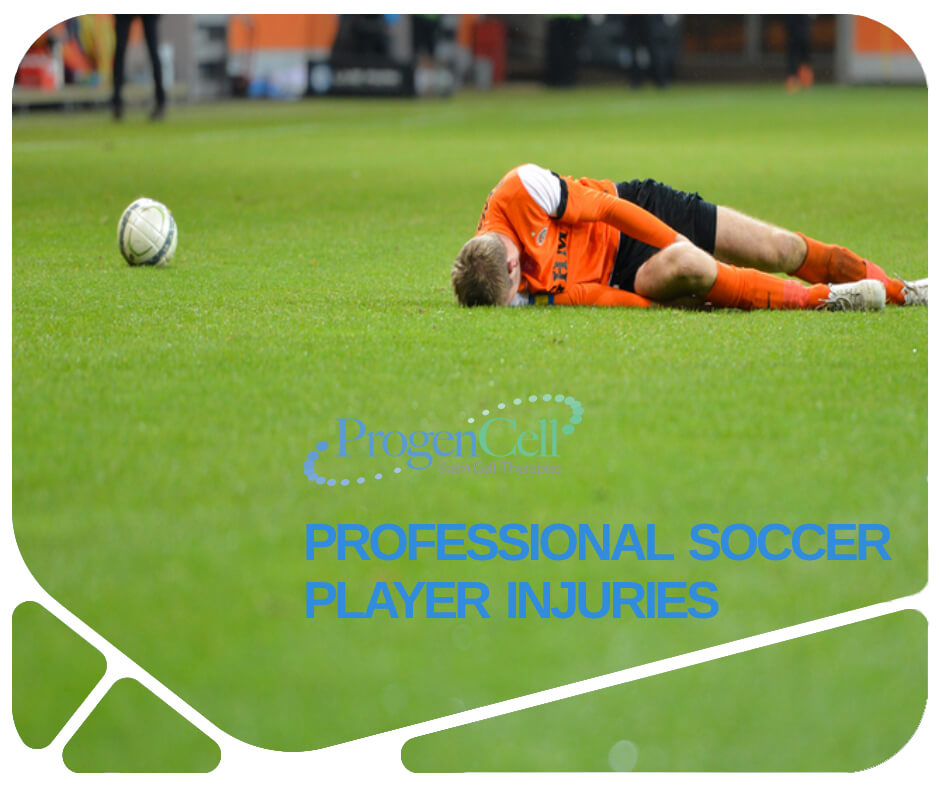 Athletes usually have a high risk of injury. It´s very common to hear that professional soccer players have injuries. During a soccer game, there is a high probability of injuring by an inappropriate movement, by colliding with other players, or by the strong movements that the sport demands.
Unfortunately, an injury can end a professional player´s career if he does not receive the proper treatment at the right time. For this reason, athletes' resort to all the means they can have, like surgeries, rehabilitation therapies and alternative medicine treatments such as platelet-rich plasma and stem cell therapy.
In recent years, soccer players like Cristiano Ronaldo have turned to stem cells to treat sports injuries. In 2016, The Sun newspaper reported that Ronaldo's knee had been treated using stem cells. The same as the famous tennis player Rafael Nadal in 2014, who stated that the treatment ended his pain three weeks after receiving it.
Other names of athletes who have undergone stem cell treatment are Mike Tyson a box star, Kobe Bryant the famous basketball player and Luis Suárez another excellent soccer player. Many people have wondered "why do elite athletes trust stem cells for their recovery?
Next, we will solve this question.
Stem cells, the basis of life
Stem cells can multiply, become other types of cells in the body, self-renew, and create new cells when existing ones have completed their life cycle. For example, a stem cell can become a red blood cell or a nerve cell, which could divide to replace other damaged cells and repair tissues.
Stem cells are used in regenerative medicine to treat sports injuries, but also in the treatment of autoimmune, neurological and metabolic diseases such as diabetes mellitus, among others. And the more research advances they perform, stem cells are being used in more conditions, since more benefits are being discovered.
Does this mean that I can abandon my medical treatment?
No. On the contrary, it is recommended to continue with the basic medication, previously indicated by your treating physician. Many people think that resorting to regenerative medicine means abandoning their medical treatment, or their rehabilitation therapies. However, each case is different, and it is essential to always have the specialist´s follow-up to guarantee a complete recovery.
Stem cells help to significantly shorten recovery time, and in some cases even make it complete, depending on the degree of injury, location, and patient compliance with the given medical indications. During sports, especially soccer, players perform many repetitive movements, pivots, and turns that wear out the joints. In addition, the demands of training sessions and games make players more prone to injury.
After conventional and surgical treatment of injuries, it is common for the player to receive rehabilitation to strengthen the adjacent muscles. However, the damaged bone, joint, or ligament is left weakened and susceptible to further injury. It is even common for the player to experience pain again in situations such as cold, repetitive movements or overtraining.
By receiving treatment with stem cells, the player will be noticing an improvement in their symptoms in a shorter period of time, with the possibility of forgetting these possible side effects since the damaged cells and tissues regenerate, allowing, in some cases, a complete recovery.
More security in recovery
Conventional treatments for sports injuries are highly dependent on the patient´s healing and recovery, which can take many months depending on the injury.
However, the infiltration of stem cells helps the tissues to be replaced more easily and more quickly.
How are stem cells used to treat sports injuries?
First, remember that each injury is different, and it is important to visit a specialist to have the proper recommendations according to your case. In general, autologous stem cells, which are obtained from bone marrow stem cells, can be used for a sports injury to ensure that you have many cells.
Once obtained, without the need for any procedure or changes to the stem cells, since they are already of high quality, they are infused directly into the required area. For example, when dealing with a patient with osteoarthritis and with extensive joint damage, the cells are infiltrated to the articulation and, consequently, the cells travel to the damaged areas of the cartilage initiating the regeneration processes.
Do stem cells help improve sports performance?
It´s doubtful. Stem cells are used to treat sports injuries or due to diseases that damage the musculoskeletal system, such as rheumatoid arthritis or osteoarthritis. By themselves they do not improve sports performance, but since they favor partial or total recovery, the player can return to practice with greater safety, since stem cells, by improving damage, allow better functioning of the musculoskeletal system.
Advantages of stem cells for the treatment of sports injuries
Having no adverse effects or risk of rejection by the body.
Helping relieve pain and reduce inflammation in less time
Speeding up recovery time
In some cases, helping tissue regeneration and avoiding the need for surgery.
Accelerating healing
Helping reduce cartilage degeneration
Almost anyone is a candidate for stem cell therapy.
Where to go for a stem cell treatment?
In Tijuana, Mexico you will find ProgenCell. Specialists in stem cell treatment and regenerative medicine. We are a certified center, authorized by COFEPRIS, with a long list of success stories in the treatment of metabolic, neurological, ophthalmic, autoimmune, and orthopedic diseases, among others.
So, whether you're looking for stem cell therapy for COPD in Mexico, for your knees, anti aging or any other treatment, we got you covered.
Browse our webpage to learn more about stem cell treatment. If you need more information, contact us through the WhatsApp button, call us at 1 (888) 443-6235 or write to info@progencell.com. We will be happy to help you!
Facebook Comments