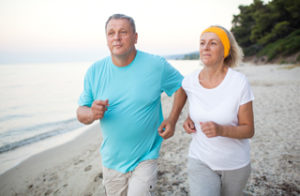 ProgenCell's Stem Cell Anti Aging Therapy Protocol covers everything you need to make you feel and look younger. We offer a comprehensive program developed by a multidisciplinary group of doctors and scientists that have been working in regenerative medicine for more than 20 years. Our Anti Aging Program covers five different areas:
Stem Cell Rejuvenation Therapy.
Stem Cell Facial Restoration.
Nutritional Control.
Hormonal Control.
Detox Therapy.
This combination of therapies has shown great results to rejuvenate, delay cellular aging and make you look and feel younger. Also, you will experience a substantial improvement in your daily activities such as a better quality of sleep and increase ability to concentrate.
Stem Cell Rejuvenation Therapy, with autologous stem cell, has an internal strong revitalizing effect that will reverse your internal organs signs of aging while strengthening your metabolic, neurological and immune system. The stem cells beneficial effects will show greater efficiency in the operation of the liver, kidney, lung, and heart. In most cases the patient experiences an increase in vitality, as it begins to regenerate organs that have begun the process of metabolic deterioration.
Considered as one of the most advanced anti-aging techniques of the 21st century; Stem Cell Facial Restoration is primarily used for mild to moderate correction of signs of facial aging, loss of volume and facial contouring. Typically, patients over 30 years of age start presenting soft tissue and collagen loss of the mid-face and mild to moderate wrinkling. The stem cell facial restoration will aid rejuvenate your facial appearance reestablishing youthful features.
Hormonal Control is intended to strengthen and balance your glandular system, thus improving your health and achieving widespread prosperity. The production and secretion of hormones are not visible, but its effects are clearly present in the appearance of the skin, hair and nails. If any of the glands comes into unbalance, the rest of them get also affected, and chronic fatigue often reflects this imbalance. This is the reason why a series of hormone panel tests are previously performed. With these tests, doctors prepared a series of injectable hormones based on your requirements to help your entire system to preserve the internal organs, stabilize hormone secretion and get the benefits of having a complete hormone therapy.
Nutritional Control is handled from two different angles: internal and external. The first angle is a vitamin infusion based on your laboratory results, to stabilize the levels that may be out of range. In fact, we will make an assessment about your habits and conditions to provide the necessary supplements to enrich your needs based on your lifestyle. And a diet adjustment will be suggested if necessary.
Detox Therapy is aimed to help reduce heavy metals in your body and increase an alkaline environment. Detox is an important factor because it affects the oxidation of the body and therefore premature aging. This therapy aims to remove toxic elements and improve your physical and energetic state.
If you would like to receive more information about ProgenCell's Stem Cell Anti Aging Therapy Program, you can contact 1 (888) 443 6235 or send an email to info@progencell.com
Is Stem Cell Therapy Right for You?
Start your process now to learn if Stem Cell Therapy can help you improve your quality of life.