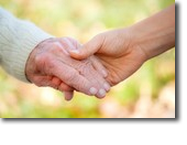 Alzheimer's disease (AD), also called simply Alzheimer's, is a neurodegenerative disease that manifests as cognitive and behavioral disorders. It is characterized in its typical form by a progressive loss of memory and other mental abilities, as nerve cells die and different areas of the brain atrophy. The disease usually has an approximate average of ten to twelve years, although this can vary.
Are you living with Alzheimer's Disease? Call us today for a FREE consultation or fill out the Case Evaluation Form to begin.
ProgenCell's procedures are scientifically designed and professionally followed; we have one goal in mind: substantial health improvement of people with simple logistics.
We do not suggest that patients substitute their current medical doctor or abandon current treatments. Since this is a long-term protocol, is necessary that your current medical doctor continues to follow up on your case.
Step 1:
Information: Our medical experts study your case, your current condition as well as your health history. After a full evaluation it is decided if you could be eligible to participate in this protocol, and receive cell therapy. A multidisciplinary medical committee studies your case and honestly considers your improvement potential.
After your case is evaluated, a ProgenCell staff member will contact you regarding your particular case and potential benefits. We also answer any question you may have about the procedure or the requirements to make it happen.
Step 2:
Plan: Once you have consented, we can plan ahead. Because of ProgenCell's high demand, it is necessary to schedule a date for your procedure at least 2 to 3 weeks in advance. Exceptions can be made when the condition of the patient requires urgent care.
Step 3:
Conditioning and medical procedure: When your appointment is scheduled, we will assign you an agent that will become your personal assistant related to your medical procedure. This assistant will be able to help you with administrative tasks, logistics, planning your stay, communication with the medical staff, etc. Your personal agent will provide you the proper documentation to complete your medical records and will explain the informed consent. In short, we will coordinate all that's necessary for a practical and easy stay with ProgenCell. The complete treatment – from beginning to end- will take from 3 to 6 hours, depending on the case. During your recovery time you will have access to a telephone, TV and internet.
Call us today for a FREE consultation or fill out the Case Evaluation Form to begin.
The symptoms that define the disease were identified by Emil Kraepelin in 1906, at the same time that its characteristic neuropathology was first observed by Alois Alzheimer. Thus, the discovery of the disease was the work of two psychiatrists who worked in the same laboratory. However, Kraepelin felt that the neuropathological basis of the psychiatric disorder warranted naming the disease in honor of his companion.
The World Health Organization estimated that in 2005, 0.379% of people worldwide had dementia, and that the prevalence would increase to 0.441% in 2015 and a 0.556% in 2030. Several studies have reached similar conclusions. Another study estimated that in 2006, 0.4% of the world population (between 0.17% and 0.89%, absolute value approximately 26.6 million or between 11.4 to 59.4 million) would be afflicted by AD and that the prevalence would triple by 2050.
The causes of Alzheimer's disease (AD) have not been completely uncovered. There are three main hypotheses to explain the phenomenon: the deficit of acetylcholine, the accumulation of amyloid, and metabolic disorders.
Is Stem Cell Therapy Right for You?
Start your process now to learn if Stem Cell Therapy can help you improve your quality of life.