Ophthalmic Stem Cell Protocol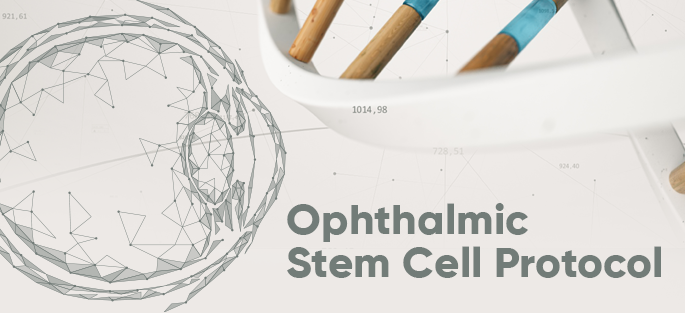 ProgenCell – Stem Cell Therapies has developed a stem cell treatment protocol specifically for patients who are suffering from ophthalmic conditions. In ProgenCell's Protocol Bone Marrow derived Stem Cells are used and delivered intravenously and by a retrobulbar injection. Bone Marrow-Derived Mesenchymal Stem Cells (Bm-Msc) have the capacity to regenerate lost photoreceptors and retinal neurons and improve vision.  This specific Protocol is performed at ProgenCell Stem Cell Therapies state-of-the-art facilities, applied by a board-certified ophthalmologist and the whole process is overseeing by an Independent Review Board to ensure the ethical and safe approach to Stem Cell Therapy.
What kind of Ophthalmic Conditions can be treated with this Stem Cell Protocol?
This Protocol can help patients suffering from:
Retinitis Pigmentosa (RP).
Optic Nerve Atrophy.
Macular Degeneration (MD).
How does Stem Cell Therapy Helps?
Several studies have established that pluripotent stem cells, such as mesenchymal stem cells (MSC), when placed in the back of the eye have the potential not only to survive, but also to differentiate, organize into and function as photoreceptor cells. Furthermore, there is early evidence that these transplanted cells provide improved visual function.
What is included in the Protocol?
IV administration of autologous bone marrow derived stem cells.
Retrobulbar Injection of Concentrated Bone Marrow Derived Stem Cells.
A series of Multivitamins Infusions to ensure that the body is hydrated and in the best condition as possible for treatment.
Injections of Stem Cell Activation and Stimulation Factors.
Screening Tests and Ophthalmologist Evaluation.
What type of Stem Cells are Administered?
In ProgenCell's Protocol for Ophthalmic Diseases stem cells derived from the patients own Bone Marrow are used. The Bone Marrow is the natural source of  Hematopoietic and Mesenchymal Stem Cells in the human body. By using the patients own bone marrow we benefit from the mesenchymal stem cells (MSC's) potential to differentiate into photo-receptor and retinal cells and the unique immune-modulating properties of Hematopoietic Stem Cells (HSC's)  also present naturally in the Bone Marrow.
How is the Protocol Done?
The Protocol is an outpatient procedure and requires a 4 day stay. During these four days IV vitamins are administered and stem cells growth and activator factors.
Medical Itinerary (example)
1st Day of treatment
1 – 2 hours approximately
• Medical appointment, physical examination, file review.
• Bloodwork.
• Ophthalmologist Consultation
• 1st PreTreatment.
• IV Vitamin Infusions.
3rd Day of treatment
1 – 2 hours approximately
• Bone Marrow Aspiration
• Stem Cell IV Infusion.
• Retrobulbar Injection of Bone Marrow Derived Stem Cells
2nd Day of treatment
1 – 2 hours approximately
• 2nd PreTreatment
• IV Vitamin Infusion.
4th Day of treatment
1 – 2 hours approximately
• Medical Consultation
• Multivitamins IV Infusion
How to become a patient?
To enroll in ProgenCell's Stem Cell Treatment Protocol, submit your Health Questionnaire or contact one of our Regenerative Medicine Scientific Liaison's at 1 (888) 443 6235 to start your process now.
Scientific Resources:
Ramsden CM, Powner MB, Carr AJ, Smart MJ, da Cruz L, Coffey PJ. Stem cells in retinal regeneration: past, present and future. Development. 2013 Jun;140(12):2576-85. doi: 10.1242/dev.092270. PMID: 23715550; PMCID: PMC3666384.