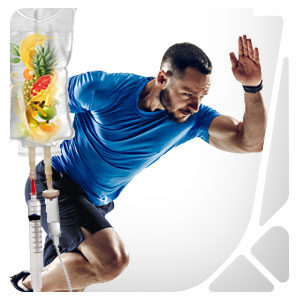 ProgenCell IV Therapy Center located in NewCity Medical Plaza in Tijuana is a best in class award winning medical IV nutritional therapy practice spearheaded by the combined experience of ProgenCell's board certified doctors. We are the main Tijuana destination for intravenous therapy, vitamin infusions, supplement IV infusions, as well as chelation therapy & detox therapy. A key advantage of IV therapy is that it allows for the 100% bioavailability (absorption) of fluids, minerals, and vitamins as they avoid being processed by the gut (which can result in decreased physiologic availability due to the digestive system), allowing for better cell absorption. IV therapy also assists in giving the body a boost at times of high stress, injury or illness and promoting general well-being.
We offer the most comprehensive medical IV Therapy "cocktails" in Tijuana. Each and every IV therapy infusion is customized to the patient's unique needs.
Every IV Therapy infusion is  customized to the unique needs of each patient.
Even patient receives a complimentary consultation with a doctor prior to infusion to ensure the best possible "cocktail" for your needs.
We mix all medical grade IV cocktails at the time of your visit, specifically for YOU.
ProgenCell IV Therapy & Infusion Center specializes in an extensive range of IV therapy services ranging from our renowned intravenous vitamin infusions to other wellness treatments such as rejuvenation, anti-aging, weight-loss, and diagnostic therapy, all tailored to specific needs. Our IV nutritional therapy drip treatments are the most effective, natural, safe and essential method to support a healthy lifestyle.
Immuno Booster
The ideal IV therapy to strengthen the immune system. The perfect ally for seasonal flus and opportunistic viruses. This vitamin cocktail will give your body the immunity boost it needs. Packed with vitamins B and C, Zinc and powerful antioxidants.
IV Athletic Performance

This IV includes a high dose of Vitamin C, Complex combination of amino acids and minerals that works to increase your metabolism and restore and improve your energy levels.With a glutathione push that will help your body process the free radicals produced by illness and exercise, helping you recover that much faster.
IV Iron (AKA Post Surgery)
IV infusion delivers fluids, vitamins, nutritional supplements and Iron directly into the bloodstream to restore any iron deficiency or quickly recover from anemia. This IV infusion is extremely popular among patients who are planning or recenter underwent Plastic or Weight Loss Surgery.
IV Hydration (Hangover Therapy)
This popular IV infusion delivers fluids, vitamins, electrolytes, minerals, and other nutritional supplements directly into your bloodstream to provide relief for a multitude of common ailments associated with the accumulative effects of dehydration including hangovers.
IV Glutathione
Glutathione is a peptide that is naturally produced and found in every cell of the human body. Composed by 3 essential amino acids (cysteine, glutamate, and glycine), it is often referred to as the master detoxifier for its incredible ability to promote skin health, body function, overall mood and well-being. .
An IV infusion of glutathione delivers the powerful antioxidant directly into your bloodstream to increase glutathione levels and promote overall health.
IV Glutathione
Per Session
IV Vitamin C
Is a functional IV Injection with a high dose of Vitamin C, replenishing fluids , minerals and amino acids to boost the body's immune system and restore any .