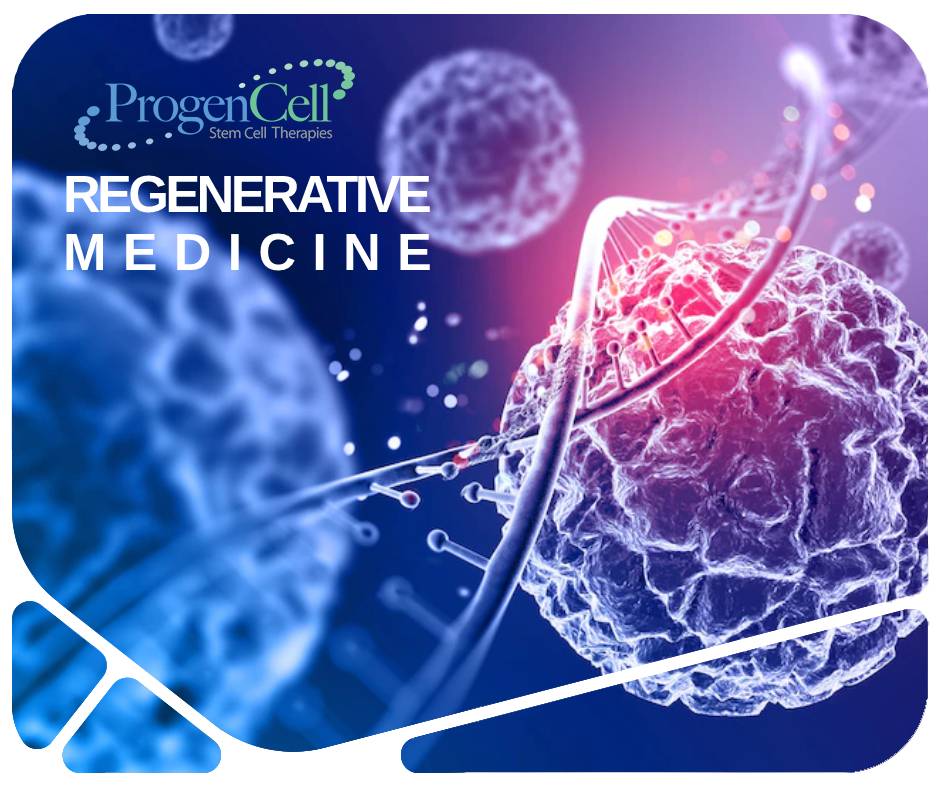 Regenerative medicine is an innovative field of study. It applies principles from the health sciences to improve or replace organs or tissues that are so damaged that they can no longer perform their functions normally.
In this new post for the ProgenCell blog we will tell you everything you need to know about regenerative medicine.
What is regenerative medicine?
Unfortunately, many systemic diseases, infections, and injuries result in tissue degeneration and organ loss. Regenerative medicine is an interdisciplinary field in which health science principles are applied to restore diseased and/or injured tissues and organs.
Although it seems like an innovative field of study, regenerative medicine has several decades of research to create solutions for wound healing, orthopedic applications, among other therapies that are still in clinical and preclinical studies.
The main objective of regenerative medicine is to heal or replace organs and tissues that have been damaged by disease, trauma, or age. This includes skin injuries, cardiovascular trauma, liver or kidney failure, among others. Its effects have even been proven in the treatment of autoimmune diseases by helping to regulate the immune system.
Tools incorporated in regenerative medicine
Stem cells
For years, scientists have investigated how stem cells change into other types of cells in order to create new and more effective therapies. Stem cell transplants have become a ray of hope for patients with various ailments.
These groups of cells are obtained fresh in the bone marrow or are obtained from other sources such as umbilical cord cells, adipose tissue, peripheral blood and cultured in a laboratory. After their transplant they continue to grow, but are transformed into specialized cells, free of damage or genetic defects, so they continue to grow to form more cells, repair tissues affected by injury, disease or dysfunction.
 What conditions can be treated with regenerative medicine?
Rheumatoid arthritis
Heart diseases
Cerebrovascular accidents
Osteoarthritis
Lupus
Alzheimer disease
Erectile dysfunction
Asthma
Heart failure
Pulmonary fibrosis
Chronic Obstructive Pulmonary Disease (COPD)
Renal insufficiency
Fibromyalgia
Sjogren's syndrome
Psoriasic arthritis
Diabetic retinopathy
Maculopathy
Optic nerve atrophy
Future and advances of regenerative medicine
Research and clinical studies in regenerative medicine show encouraging results, including:
Pain relief in fibromyalgia
Treatment of neurological diseases
Eye diseases
Treatment of immunodeficiencies
Regulation of regenerative medicine in Mexico
In Mexico, stem cell clinics are regulated through COFEPRIS. Since 2013, licenses have been granted for clinics, hospitals and mesenchymal stem cell banks. Being a specialty area where a lot of interdisciplinary research is required, health authorities have encouraged the work of scientists to develop more effective treatments for the restoration of organs damaged or affected by disease.
All this research and health regulation gives certainty that regenerative medicine is legitimate, successful and offers alternatives to diseases that were previously considered untreatable. Why have a regenerative medicine treatment in Tijuana? In Tijuana, Mexico you will find a certified clinic, regulated by COFEPRIS, with specialists in regenerative medicine and, best of all, with high-quality services that are cheaper than in the United States.
In ProgenCell you will find the best treatment with stem cells, with high-level facilities, browse our website to learn about the services we have for you, and if you need more information write to us through our online chat where we will gladly assist you.
Facebook Comments