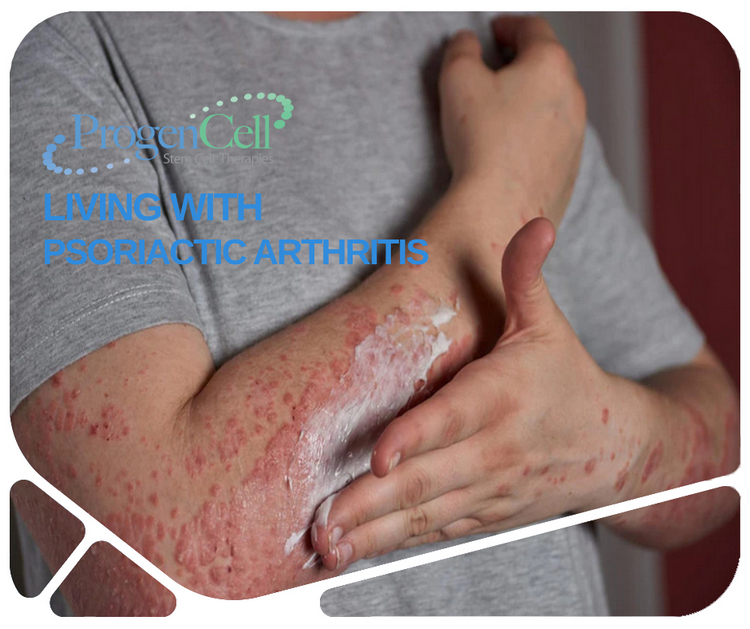 Receiving the diagnosis of a chronic degenerative disease can be devastating. Especially due to all the changes in lifestyle and the uncertainty of thinking that the affected person will not be able to continue doing their favorite activities.
Psoriasis is a chronic inflammatory skin disease that is associated with other pathologies, diseases and comorbidities, such as arthritis. Between 10% and 30% of patients with psoriasis suffer from psoriatic arthritis that is, suffering from inflammation in the joints along with pain, seeing their quality of life reduced due to lack of energy.
These symptoms go along with the red scaling that frequently appears on the elbows, knees and scalp. It is estimated that more than 80% of patients who come to the rheumatology clinic with joint pain already suffer from psoriasis, and in these cases, treating this disease is key to having long term results.
In this blog entry we will give you some recommendations if you are living with psoriasis, a disease that not only affects the skin, and that can be controlled or reduce outbreaks with a few changes in daily life.
How to manage your day to day and live a normal life
Faced with the diagnosis of an autoimmune disease such as psoriatic arthritis, people should know that changes in lifestyle, calmness, stress control and avoiding everything that causes inflammation in the body is of great help to reduce the outbreaks, both in intensity and periodicity.
In addition, it is essential to follow the recommended treatment to relieve the symptoms or outbreaks and prevent complications from appearing. For example, people with psoriasis are more likely to have high blood pressure, so following medical advice is vital.
On a daily basis, remember:
Keep your skin hydrated
Drink a lot of water
Avoid clothing made of wool or artificial fibers
Shower with warm water
Protect your skin from sun exposure
Watch your weight
People with psoriasis are prone to high cholesterol and triglyceride levels, as well as diabetes as a result of being overweight or obese. Therefore, maintaining good eating habits is key to having a healthy weight and preventing comorbidities.
In addition, it has been proven that some foods can trigger psoriasis outbreaks, such as red and processed meats (sausage, bacon…), eggs, wheat and its derivatives, pasta, packaged sauces, beer, canned fruits and vegetables, and in general any processed foods that are high in sodium, sugar, and fat.
Alcohol and tobacco use should also be avoided because outbreaks are related to the health of the immune system, and these substances weaken it.
Instead, natural fruits and vegetables, fatty fish, chicken, and oils such as coconut, olive, and flaxseed will help nourish the body and avoid inflammation.
Keep active
Sports can be difficult for people with psoriatic arthritis because they often feel tired and in pain. However, aerobic exercise is very effective at increasing your basal metabolism and doing cardiovascular work, which will help you control your weight.
The most recommended activities are walking, cycling, swimming, pilates, yoga, dancing, Zumba or kickboxing and you can increase the intensity gradually.
Take breaks
You probably feel like you're getting more tired now, and that your body isn't going as fast as your mind. So try to sleep your eight hours a day, take breaks throughout the day and avoid making extreme efforts that cause too much stress on your body.
Take massages
Massages are very important to relieve rheumatic pain and prevent lack of movement, which can lead to complications such as joint deformity.
How to carry your family, life and your work?
Give advice on how this activity can change the life of those who suffer from it. How you can cope with the disease without having to leave your job, for example, following proper treatment.
What alternative treatments exist?
In addition to conventional treatment, which is usually based on oral corticosteroids and creams, biological therapies have been tried to improve the immune response. Ozone therapy and stem cell therapy are the options that have provided the best results for both psoriasis and arthritis symptoms.
Some frequently asked questions
How to bathe if I have psoriasis?
If you have psoriasis, it is very important to keep your skin clean and shower daily. But you should avoid using very hot water, long showers, and soaps that irritate your skin. Finally, pat yourself dry with a clean towel that only you use, do not rub your skin to avoid injuring it.
How long can you live with psoriasis?
According to studies, patients with psoriasis live four years less than the general population due to associated comorbidities, especially cardiovascular ones, hypertension, high cholesterol, and arthritis. However, if you follow these tips you can live for many years and maintain a healthy lifestyle.
How to prevent psoriasis from progressing?
Psoriasis is an autoimmune disease with no cure, which is manifested by outbreaks that usually arise from triggering factors such as stress. To avoid outbreaks we recommend you follow the advice in this post and have medical treatment.
If you are looking for a complementary treatment to help you strengthen your immune system in order to combat psoriatic arthritis, ProgenCell stem cell therapy is the best alternative and also we have stem cell therapy for rheumatoid arthritis in Mexico. Browse our website to see the testimonials of patients who visited us, or contact us through the form to schedule an appointment where we will gladly answer all your questions.
Facebook Comments