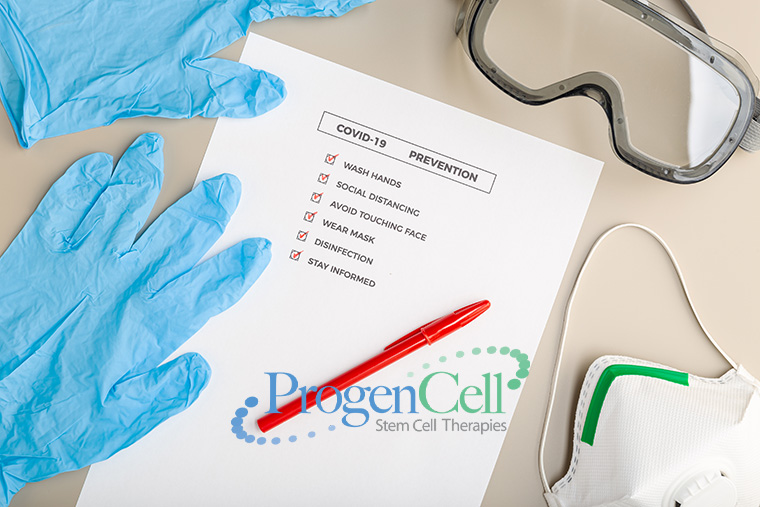 The safety and well-being of our patients, network of providers and staff is our top priority. We, at ProgenCell, are taking all the necessary precautions to have the safest transition possible to our new normal. In this process, it is important to let our patients and staff familiarize with the SAFETY PROTOCOLS that we are implementing.
For Patients: We are operating with a lighter schedule to avoid high volume of patients, and with a Social Distancing policy meaning we are limiting patient companions and everyone is asked to arrive with a facemask. If one is not present, we will give you one of ours!
Before Travelling
Patients are recommended to stay at home and maintain their social distancing to avoid infection. All of our patients are required to have a negative COVID-19 Test, of at least one week before visiting our facilities. When travelling, the patients will have a phone call briefing with one of our specialists to review all measures and travel precautions
During your Stay
 Transportation
All our drivers are equipped with hand sanitizer and disinfectant. And we require every transportation vehicle to be disinfected between each and every trip. We also have a program were we educate our providers in all the measures we are taking,
 Hotel
All members at our hotels will be equipped with proper  protective equipment, while acrylic shields will be placed at the front desk. There will be temperature checks, cleaning and disinfection of luggage upon arrival.
At ProgenCell
Our facilities will remain closed to the general public and visitors. We are also limiting the number of medical personnel in the operating room. Every member in the room is outfitted with a respirator mask with N:100 particle filters, gloves and protective clothing. The operating room will have a negative air pressure system that allows airflow through the extraction vents preventing any aerosol particles from staying in the air.
For Staff: All of our staff has been trained in the best practices regarding the prevention of COVID-19. Our facilities and common areas have been rearranged to increase the distance between workers.  We have increased and adapted the cleaning schedules and protocols regarding shared spaces. And all of our non essential staff are working from home.
Telemedicine Program: We have implemented a HIPAA compliant telemedicine program. This will ensure that patients seeking stem cell treatment are put on the right path by having an assessment and full medical consultation. Before an in-person visit,  all patients traveling to our stem cell treatment center will require COVID-19 testing.
As we have always stated, our main priority is your safety. We are very positive that we will overcome this together. And that our new normal, will be a better and safer normal. To learn more about the COVID-19 safety protocols we are taking, you can contact 1888 443 6235 or send an email to medicaltourism@progencell.com
Facebook Comments