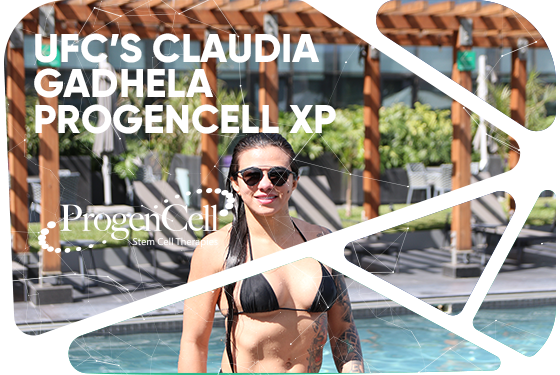 San Diego, California- From Professionals to weekend warriors many athletes seek stem cell therapies in an effort to heal injuries nonsurgically and/or to accelerate recovery times after surgery. Among the elite athletes opting for these treatments are high-profile UFC MMA fighters like Brazilian Mixed Martial Artist: Claudia Gadhela, who visited ProgenCell – Stem Cell Therapies to get Stem Cell injections in Mexico in one knee, and help her recover from a recurring injury, and help the natural healing and regenerative process.
Claudia Gadhela, currently competes in the Women's Strawweight division of the Ultimate Fighting Championship and is regarded as one of the top mixed martial artists in women's strawweight and pound-for-pound rankings. 
Watch Claudia's Video sharing her ProgenCell Experience:
Claudia Stayed at The Quartz Hotel & Spa, which is also part of the one of a kind and luxurious medical tourism complex NewCity Medical Plaza, an innovative medical facility that satisfies all your medical needs in one place. The transit between ProgenCell and The Quartz Hotel is a stress-free and comfortable experience available and affordable for everyone at fair and competitive prices. 
"We are very proud that our program has been chosen by professional athletes from different disciplines. Our stem cell treatment protocols, our strategic location along with the VIP service provided for each and everyone of our patients, makes ProgenCell The unsurpassable options for professional athletes and/or weekend warriors looking for natural and ethical ways to improve their health and performance"

About ProgenCell – Stem Cell Therapies
ProgenCell – Stem Cell Therapies is a leading stem cell treatment center that offers individualized stem cell therapies for patients with chronic-degenerative diseases with more than 10 years of experience. ProgenCell also provides assistance with lodging, traveling and logistics to provide a comprehensive and safe medical tourism experience.  
ProgenCell is now part of the Health System of NewCity Medical Plaza, a modern and innovative Medical Tourism Center in Tijuana,  Mexico. NewCity Medical Plaza is a 30-story tower, with doctors offices, hospital,  medical lab, imaging center, commercial plaza, gastronomic center and a 140-room five star hotel. 
To learn more about ProgenCell new facilities or scheduling inquiries contact ProgenCell directly  at 1 888 443 6235 or email info@progencell.com. We specialize in different treatments, such as stem cell therapy for MS, for knees, diabetes, Alzheimer's, stem cell therapy for autism in Mexico, and more. Contact us now!
Facebook Comments