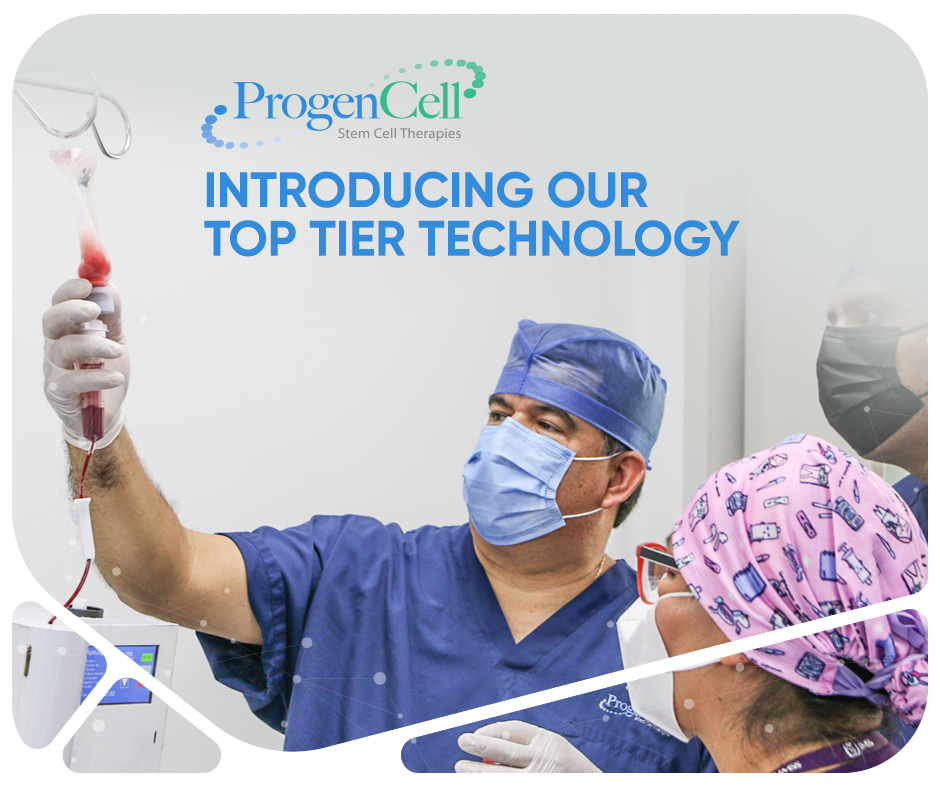 Regenerative medicine is a medical field that involves the use of different specialized equipment, thanks to that we have all the innovative methods and practices there are today. As part of this medical field, stem cell therapy has presented a very significant improvement due to all the new technologies available like the ones used below at ProgenCell Stem Cell Therapy.
Sepax: This equipment was created by BioSafe which is a world leader in automated stem cell processing for stem cell banks and regenerative medicine applications. This product is used on daily bases for stem cell procedures, mainly because the results are clear with a high efficacy, quality and safety.At ProgenCell we use the Sepax system to minimally process bone marrow. Separation and volume reduction protocols are key to obtain very potent concentrated stem cells and be able to inject in small spaces. Sepax is a high quality equipment, FDA approved, CE approved. This is a fully-automated instrument that eliminates human error, the device is being used in over 40 different countries around the world.

Activ3: is a specialized medical device that is designed to activate the cell function through magnetic fields, ultrasound and photoactivation. This device also allows customization of the activating parameters for each patient. Activated stem cells stimulate the regenerative process, therefore accelerating damaged tissue and organ repair. The device has a frontal screen which controls the equipment, also it has a software that allows to modify the parameters in each activation method as well as customizable coding. Additionally, it has a Micro SD card that makes it easier to store reports, parameters of use and maintenance. 

CryoPreservation: This is a process that preserves organelles, cells, tissues, or any other biological constructs by cooling the samples to very low temperatures. Stem cells and other viable tissues, which have great potential for use in basic research as well as for many medical applications, cannot be stored with simple cooling or freezing. That's why at

ProgenCell we use top of the line equipment to cryopreserve stem cells for future use. An independent liquid nitrogen tank directly feeds the Cryopreservation unit to keep temperatures under -180 degrees C and ensure long lasting and viable stem cells, ready for action.  The successful cryopreservation of cells and tissues has been gradually increasing in recent years with the use temperature control equipment 

Temperature and Humidity Monitoring: It's important to maintain a proper environment in our laboratory since this area is crucial to complete a successful stem cell process. We make sure to use high-end technology for patient safety, such as automated instruments specially designed to monitor our laboratory 24/7. Through our quality system we make sure that our equipment temperature, CO2, and humidity are always in range to preserve our high standards. Any abnormalities or variations are reported immediately and are able to be corrected at that time.
To learn more about our medical equipment, our stem cell doctors or how it benefits your stem cell treatment, please contact ProgenCell directly at 1 888 443 6235 or email info@progencell.com . You can also visit or find ProgenCell on Facebook, Twitter and YouTube.
We are specialists in different treatments, such as stem cell therapy for COPD in Mexico, for diabetes, MS, stem cell therapy for erectile dysfunction, Parkinson's and more. Contact us now.
Facebook Comments