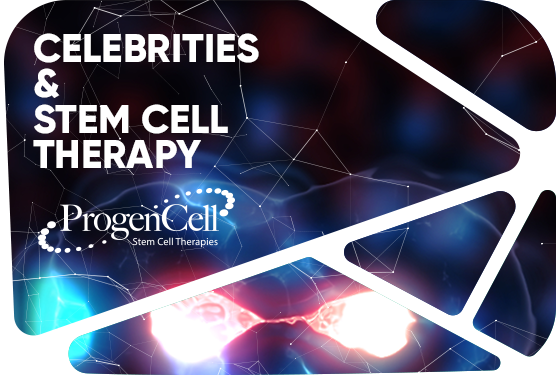 Regenerative Medicine is a Medical Field that focuses on regrowing, repairing and restoring damaged tissue, organs or cells. Part of Regenerative Medicine is the use of Stem Cells as a therapy for different illnesses or conditions. Stem Cells are able to transform into other human cells in the body, the purpose of cellular therapy is to repair damaged tissue, restore organs vascularity, improve organs function and to stop the progress of the illness.
This type of therapy has become more relevant due to the high success rate that studies have shown, so relevant that even celebrities have hopped in the Stem Cell Therapy train and have shared their journey and results with their fans. Here is a list of celebrities and their success story:
 Claudia Gadelha: Brazilian mixed martial artist who currently competes in the Women's Strawweight division of the Ultimate Fighting Championship (UFC). She is ranked #8 in the UFC women's strawweight and #15 in UFC women's pound-for-pound. She has received stem cell injections directly to her joints, this helps her heal and repair injuries caused during UFC fights and training. This has helped her to avoid surgery.
Princess Michael of Kent: Member of the British royal family. She received stem cell treatment for stiffness and pain in her shoulder. She shares her experience as amazing and affirms that the treatment has changed her life.
Cristiano Ronaldo: Portuguese professional footballer who plays as a forward for Serie A club Juventus and captains the Portugal national team. Often considered the best player in the world and widely regarded as one of the greatest players of all time.  Ronaldo tore a collateral ligament in his knee during Portugal's Euro 2016 final against France. He turned to stem cell treatment and was back in training with Los Blancos just a month after his knee complaint.
Rafael Nadal: Spanish professional tennis player. He is ranked world No. 2 by the Association of Tennis Professionals (ATP), has been ranked No. 1 in the ATP rankings for 209 weeks. Nadal's chronic knee problems forced him to take seven months off from tennis in 2013 but stem cell treatment allowed the cartilage to repair. In the seven years since he's won six Grand Slams, there's been no setbacks from his troublesome knee and he appears as mobile as ever. He also cured a long-standing back problem with the therapy.
Mike Tyson: American former professional boxer who competed from 1985 to 2005. Tyson is considered one of the best heavyweight boxers of all time. During a video chat with Shaquille O'Neal, Tyson mentions "You know what I had done? I had stem-cell research therapy.I feel like a different person but I can't comprehend why I feel this way. It's really wild what scientists can do."
It's incredible how Stem Cell Therapy has helped so many people. If you'd like to know more benefits of stem cell therapy or if you'd like to know if you are a candidate for stem cells for knees contact ProgenCell Stem Cell Therapies directly at +1(888) 443 6235 or email info@progencell.com.
In Progencell we are specialists in a variety of treatments such as stem cell treatment for diabetes in Tijuana and Mexico, so, feel free to check them out.
Facebook Comments